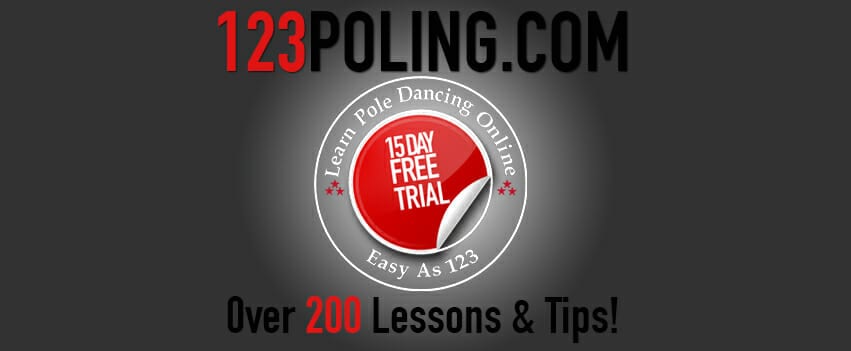 An Interview with Gold Sponsor, 123 Poling
A new way to learn pole dancing outside of the studio setting—we sat down to talk with the founders of 123 Poling, Irina & Dev, to learn what makes their service the best on the market.
---
Colleen: What Is '123Poling'?
Irina & Dev: 123Poling is online pole dance training site and a pole dance community. We feature pole dancing Lessons as easy as 1 2 3 and our mission is to provide safe and clear pole dancing instructions for all levels of pole dancing; to educate people on everything they need to know about pole dancing; and to build a strong pole dancing community where people can share their experience, discuss pole dancing agendas, look for pole dancing studios or events.
Colleen: Tell me more about what makes your lessons unique.
Dev: We produce HD quality, on-demand pole dancing lessons for all levels of difficulty from absolute beginners to experts. Each tutorial has detailed step-by-step instructions including arrow pointers which allow you to see what points of contacts are in each move and where they are located relative to the body and the pole.  We show moves from different angles so you can see the move from all sides as if you were in a studio and could walk around your teacher. Additionally, we demonstrate the most common mistakes to make your pole dance practice safe.
Each on-demand lesson includes: preparation for the move, starting position from the floor, multiple angles and move variations, most common mistakes, different ways to get into the move and exit from it as well. We use pointers, magnifying glass, freeze frames to break down moves to demonstrate where exactly gripping points are.
In most of our lessons we use a teaching method called the "Red Ribbon Technique" which helps eliminate confusion when learning on your own.
Irina: I've been teaching pole dancing since 2010 and I came across that a lot of students get confused which leg is right or left or which on is inside or outside. With this technique you won't have that problem anymore! All you need to do is to put a red ribbon on key arm and leg and pole on!
Colleen: I've noticed you all do special lessons to coincide with holidays — those are fun!
Irina & Dev: Haha — yes! We pride ourselves in creating not just most informative lessons but fun and graphical ones too. We do what nobody is doing — we create themed pole dancing lessons! Our current themes include: Halloween, Christmas, Valentine's Day and St. Patrick's Day. For each holiday we prepare a special outfit for our teacher, create a unique and themed name of the move like "the Grinch" for Christmas and "the Exorcist" for Halloween, then style with theme graphics and add music.
Colleen: In addition to your themed lessons, do you have any featured instructors teaching lessons?
Irina & Dev: We have lessons with many amazing champion instructors including Pole Sports Organization champion Marcy Richardson as well as Pole Championship Series (held at the Arnold Sports Festival) finalist Ashley Fox.  We will have more remarkable pole dancers coming soon to teach their signature moves. Follow on us Facebook and Instagram to know as soon as they're live!
Colleen: You mentioned that not only are you creating amazing, on-demand lessons, but that you are also creating a community. Tell me more about that.
Irina & Dev:  We are building 123poling.com as a social media platform where you can create a personal profile, upload pictures, find friends, chat, comment, discuss new hot pole dancing moves AND the best part — it's all FREE.
We also have a free, online, advanced pole dancing studio directory that is not just another listing, but interactive platform where students can write a review, and add own photos as well! If you are a studio owner, you can submit your studio.
Colleen: What's next for 123 Poling?
Irina & Dev: 123TV is a great source of information about pole dancing events: championships, shows; products, reviews, and people who make a difference in pole dancing. We'll be filming at PoleCon and can't wait to meet everyone in person!
Check out 123poling.com here and get a 15 day free trial!

Colleen Jolly is an AFAA-certified personal trainer, elevatED-certified pole teacher, entrepreneur and pole dance competitor. She has been poling for seven years, is the CEO of the International Pole Convention and teaches pole dancing online for 123Poling.com and in the DC metro area at FIT4Polers and MyBodyShop. She is active in leadership roles and Board positions in arts and association non-profit organizations; and is also an award-winning pole dancer, artist, writer, and speaker on visual communications and general business topics around the world.