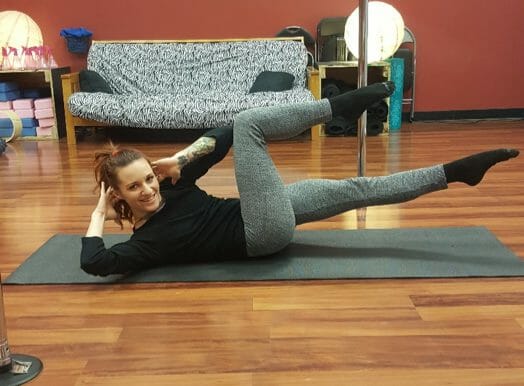 5 At-Home Core Exercises That Can Supplement Your Pole Training
One of the best ways to help increase your pole growth is by strengthening your core.  Our cores are just that: the core of all of our movement.  They connect our limbs to our torso and help stabilize the crazy things we ask our bodies to do.  By taking the time to do extra core exercises a couple times a week, you'll be amazed at the overall change in your body's strength and ability to move…and master control over your movements!  Here are a few of my favorites, along with a few modifications that can make them more or less difficult depending on your current strength.
While these are a few of my favorite ab exercises, don't let that deter you from finding your own favorites!  Add these exercises and progress through the difficulty options to get the most out of your strength training.

Jordan Mazur is a performer, competitor, and the owner of Muse Pole Fitness in Columbia, MO.She earned her B.S. in Dance through the Indiana University School of Kinesiology before going on to dance professionally with the Missouri Contemporary Ballet, for whom she now serves on the Board of Directors.Jordan has performed and competed in numerous shows and competitions throughout the country, created Vertical Desires, a professionally choreographed pole show based out of Columbia, and has earned over a dozen pole titles including CPC Exotic L5 Champion, Florida Pole Fitness Most Artistic, World Erotic 1st Runner Up, and USPDF Pro Card Holder (2nd Runner Up).

Latest posts by Jordan Mazur (see all)